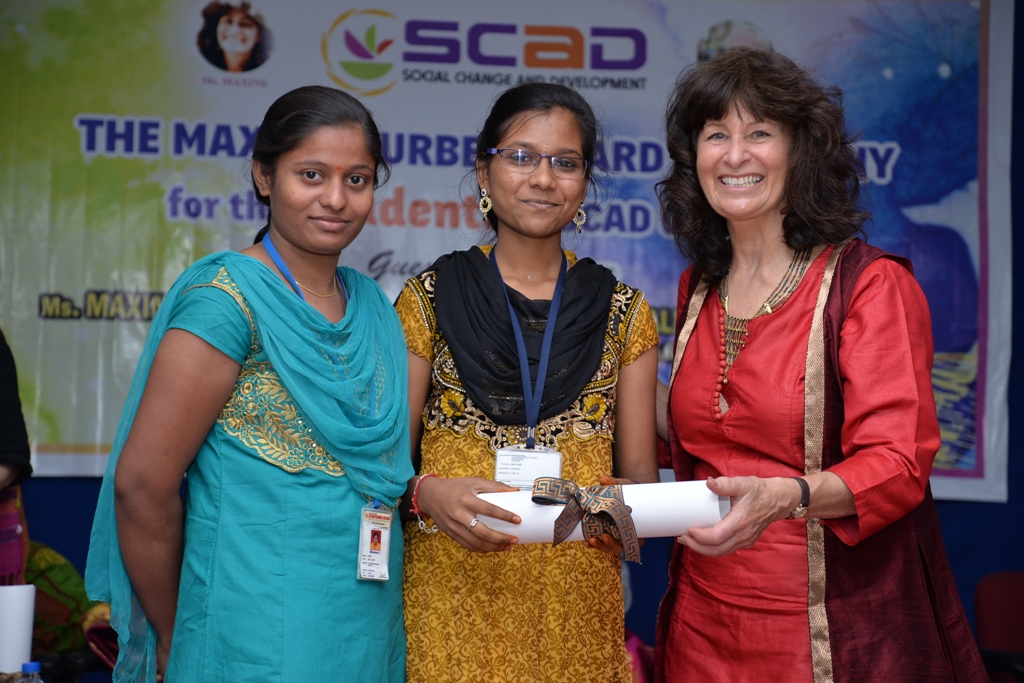 Calling all Young Women in SCAD Colleges: An Exclusive Opportunity for You
The Maxine Award invites you to explore your natural talents and enthusiasm, your sense of enterprise and your creative skills in this exciting opportunity. The Award is open to all young women currently attending any of the further education colleges founded by SCAD, Social Change and Development.
It offers prestigious prizes on a given topic in 3 separate categories for you to choose from:
ART
SCIENCE
BUSINESS ENTERPRISE
Please read on, find out more. We would love to hear from you. Please note that to take part, you MUST obtain an entry form from the Award Coordinators: Dr S. Gomathi, Professor / CSE, FXEC, Contact number +91 7530076969 (Or) Mr. G.Ratnavelu Team Leader Projects Tirunelveli +91 9942978511
WHAT IS THE AWARD?
The Maxine Award has been sponsored by Dr Eleanor O'Sullivan, a leading Radiologist, a former Council Member of the British Medical Association in London, England and herself a recipient of the coveted "UK Gold Medal for Services to Medicine". She qualified as a Doctor in London at a time when only 10% of medical students were girls. This number has now risen to over 50%. Indeed, young women are progressing and excelling in all fields and these prizes are intended to recognise and encourage this. Dr Eleanor has been a Medical Director of her hospital for 8 years, was formerly a Major in the British Army, has designed and built 5 houses and most recently, a Museum, and organised a Charlie Chaplin Film Festival!
The Award itself is named after the noted Artist Maxine Relton, who has been bringing sketching groups to Tamil Nadu from Europe since 2009 to support the important work that SCAD carries out in the rural communities of Tamil Nadu, South India. Maxine herself is inspirational and an outstanding example of how much a woman can achieve artistically and in business. She is passionate about helping people to achieve their full creative potential in life. She herself originally trained as a linguist, learning French, German, Italian, Spanish and Russian, then worked as a simultaneous interpreter for an international company before achieving a First-Class BA Honours Degree in Fine Art in London, followed by an MA in Fine Art at London's renowned Slade School of Art.
The annual prizes are offered exclusively to SCAD's female students, whatever their field of study. They will be awarded to the winners of the competition on given themes. These topics are designed to encourage broad-based endeavour and excellence in art, science and business enterprise. The winners or winning teams (up to 4 members) will:
Be invited to the Public Award Ceremony to receive their Certificate of Outstanding Merit
Receive a cash prize
Be celebrated in the International Profile on SCAD's official website
Have their names inscribed on a special plaque: The Maxine Award Board of Winners, displayed at SCAD's main site
Receive guidance on presentation techniques, invaluable for future job interviews!
Read on to find details of the new 2020 themes in the 3 categories set out below or visit www.scad.ac.in/events, www.scad.org.in/events/the-maxine-award-2020, www.nirmantrust.org.in/events/the-maxine-award-2020.
This year's options have been chosen by the Award Committee but your suggestions for future themes will be welcomed at any time.
WHO CAN ENTER FOR THE AWARD?
The Award is open to all female students currently attending any of SCAD's further education colleges, whatever your chosen discipline. There is no participation fee. You may compete with 1, 2 or 3 other students. Each competitor, whether single or in a group, may submit ONLY ONE entry and may enter ONLY ONE of the 3 different categories.
WHAT ARE THE 2020 AWARD THEMES?
We have given below detailed guidance to help you choose which of these 3 different categories most appeals to you. An initial shortlist will be made from all submissions, followed by a further selection of the first and second prize-winners for the most outstanding entries in each category. The Judges will be looking above all for:
An imaginative, creative approach to your theme
New material devised expressly in response to the competition
A lively, enthusiastic presentation of 7 minutes maximum duration
A commercial or socially beneficial angle demonstrating a spirit of enterprise
Evidence of thorough and thoughtful research
We hope the contest will stimulate you and be inspiring but also that it will be fun. Remember you team up with 1, 2 or 3 enter your chosen category.
The subjects chosen for each category this year are as follows:
1. ART : COMMUNITY CORNER
Are you visually creative and expressive by nature? Could you use your imagination to bring beauty to a dull and unloved part of your environment?
THE TASK IS
Firstly to choose a neglected corner which could be transformed in 3 ways: with seating, decoration and planting.
To create an inviting outdoor space with comfortable shared seating, shade, beautiful plants and a colourful, artistic backdrop such as painted walls, a mural, floor patterns, etc. Perhaps an information/message board, a cupboard of free books and children's toys to exchange, some form of children's puzzle, a decorated litter bin..?
To consult with the owner of the land as well as local residents/businesses for permission and approval of your ideas.
To decide who is likely to use the new space (elderly people, children, young families, shoppers, students?) to help you shape your vision
To keep a photographic record of all stages as well as research/planning/costing details to present to the Award Judges who may visit your site.
To use locally available materials/ your own design ideas/ perhaps arrange some sponsorship from a local business/promote your plans to gain public support and volunteer help….?
Finally, to arrange continued maintenance and care of the site for the future – how can this be ensured?
You will have 7 minutes to show your creative ideas to the Award Judges.
Remember that the Judges may come in person to look at the transformation you have achieved.
SCAD ARTISTS SHOW THEIR CREATIVE SPIRIT!
2. SCIENCE : THE CHALLENGES OF PLASTIC
This year's Science Award invites you to consider the use of plastic in your community. Discarded, single-use plastic is having a profound impact on our planet. Can you use your ingenuity and scientific know-how to find ways of constructively re-using or re-purposing this valuable but potentially damaging material?
THE TASK IS:
To devise an inventive approach to collecting, re-using, converting or re-purposing single-use plastic
To cost your idea, draw up a clear business plan
To run a pilot test in your community and monitor the results; how can you engage people to help your vision of the future?
To present your research, costings and findings to the Award Judges in clear and interesting visual form.
You will have 7 minutes to show your creative ideas to the Award Judges.
SCAD SCIENCE STUDENTS HELP THE WORLD!
3. BUSINESS ENTERPRISE : WOMEN'S EMPOWERMENT
Are you a natural entrepreneur who enjoys thinking up new ideas? Could you use your talents to help improve women's seasonal work in the home by inventing a new tool, designing a new labour-saving device or improving an existing approach?
THE TASK IS
To find out from your family and friends what seasonal domestic tasks are carried out by women
To consider ways of improving one of these annual tasks, making the work easier, quicker, more efficient and enjoyable, eg by establishing a job share, by organising a supportive event, by devising a community resource/purchase, by fund-raising for a specific item.
To show the Award Judges your research, planning, costing and successful implementation of your idea
SCAD ENTREPRENEURS LEAD THE WAY!
HOW DO I ENTER?
Registration and Entry Forms
TO TAKE PART, YOU MUST REGISTER WITH THE AWARD COORDINATOR AND OBTAIN AN ENTRY FORM.
Dr S. Gomathi, Professor/CSE, FXEC, Contact Number +91 7530076969 (Or)
Mr G.Ratnavelu Team Leader Projects Tirunelveli, Contact Number +91 9942978511
For further details, visit www.scad.ac.in/events, ww.scad.org.in/events/the-maxine-award-2020, www.nirmantrust.org.in/events/the-maxine-award-2020
Closing Date for Entries
All competition material must be received by 15.02.2020
Please Note
The decision of the Judges will be final and will be announced at a Public Award Ceremony in early 2020. All entrants and colleges will be notified of those details in due course.
WE GREATLY LOOK FORWARD TO SEEING YOUR IDEAS and
MEETING YOU AT THE PUBLIC AWARD CEREMONY.
**Maxine award coordination team**